At the beginning of November,
my data science book
came out from Wiley. The book seems to have been useful to some folks, and that's about the best one can hope for from a technical book.
Now, the thing about publishing a technical book is that even though the publisher can get the book to the shelves, it's still up to the author to do a lot of their own marketing. The publisher ain't going to push this thing like a new
Games of Thrones
book (not that that'd need advertising...or
that that's going to happen at this rate
. Anyway...).
It's probably fair to say that most technical authors are not great marketers. It's a tough job, because unless you're writing on a very niche subject, there are probably a few competing titles for a limited number of eyeballs. How do you get people to pay attention to your book?
Well, for me I did plenty of the basic stuff -- things like tweeting about the book a lot much to the annoyance of my closest Twitter pals. But today I want to talk about the three things that I've done only on a semi-regular basis:
1. Write blog posts
2. Do interviews that are posted online
3. Speak at conferences
And since the book came out, some of my interviews and blog posts have made it to the front page of Hacker News. So pairing up when all these posts went up and when I spoke with my sales data from BookScan, I was able to get a sense of which of these activities gives me the best bang for my buck.
Now, I hoped the most effective activity would be blog posts. Why? Because I like writing, and I don't have to leave my bedroom to do it. Interviews are cool too, but while they don't require travel, they do require me talking about myself, which is nauseating.
As for speaking, it's is a lot of fun, but as a father of three, I don't like being on the road all the time and I keep wondering whether speaking is all that great since you don't have the internet as your bullhorn. You can only sell your book to a few people in the room. It's got limited reach.
So, here's a line chart of my sales numbers (I erased the y-axis but it does start at 0) for all the weeks since the book was released. I've noted important events on the graph. Let's dig in.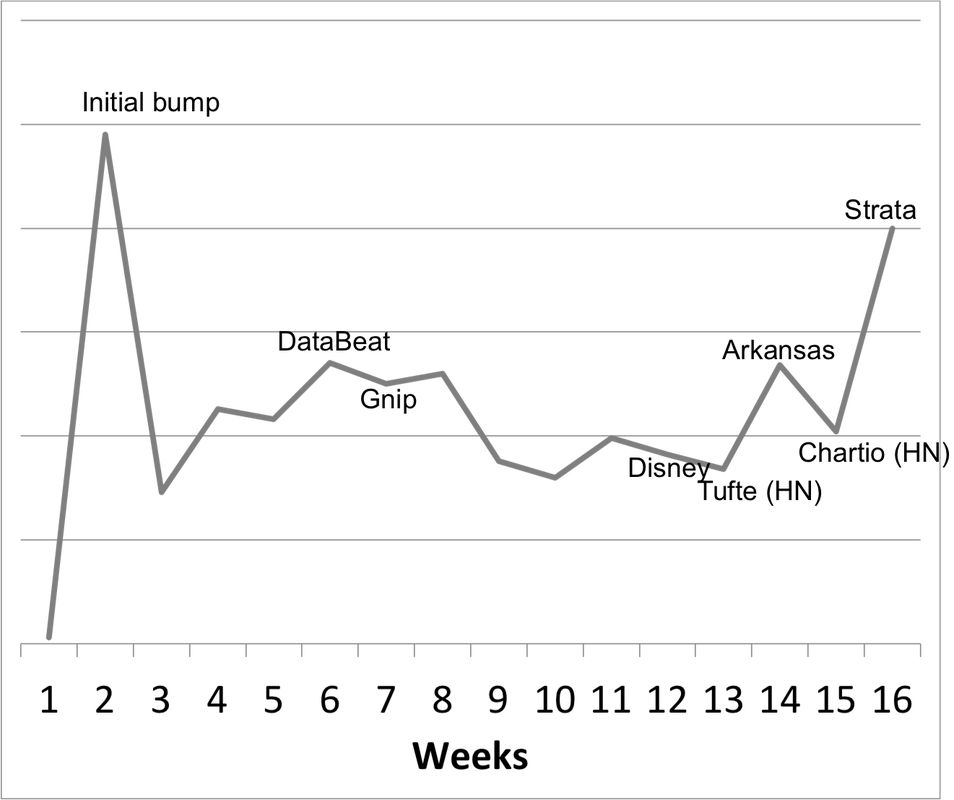 So the first thing to note is the huge initial bump in sales when the book came out. Week one there sold just a few copies because the book was released just hours before the end of that week. In reality, the sales started in week 2. What we see there is the realization of "pent up demand" if such a thing as pent up demand can exist for a data science book.
Week 2 is where all my blog readers, newsletter readers, and Twitter buds bought the book most likely.
Now,
DataBeat
, Arkansas, and Strata were all talks. And they're the spikes. So the big takeaway for me is that when you want to sell a book, telling someone in person to buy it is more effective than any kind of post online. At least for me it was. Also interesting here is that the sales for my Strata talk are much higher than the other two talks even though I had a couple hundred people at the DataBeat and Arkansas talks whereas I only had fifty people at my Strata talk.
The difference there is that my
Strata talk
wasn't about my day job at MailChimp. It was an actual tutorial from my book instead. So the people who showed up to the talk were curious about the book already and not just curious about big data in general.
Let's contrast these talks with the other events on the chart. My Chartio interview made the front page of Hacker News, and the first question was about my book, and yet, that interview was less effective than my Strata talk. Likewise, my Gnip interview didn't drive as many sales as speaking.
Also, my post on Edward Tufte and Powerpoint made the front page of Hacker News (and now that I'm using Weebly, my site stayed up). Here's the spike in views to this blog when the post hit: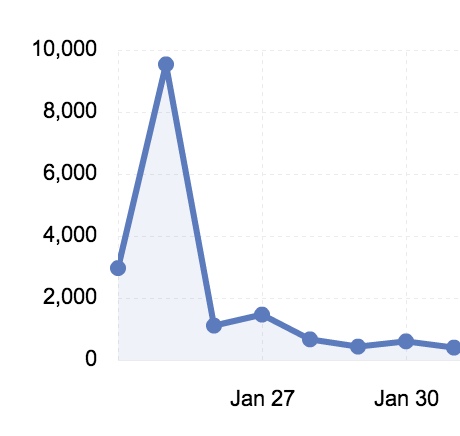 Even though that post has a freaking banner ad for my book on the right side of the page, the sales from the post didn't provide a bump the way my talks have. Indeed, the sales that week were a local minimum.
Then there's my post on
Disney and data privacy
over at GigaOM. With 2000 shares on Twitter and over 60 comments, this was the most widespread thing I've ever written (other than my book). But the post isn't about my book, and while it gained me some Twitter followers and angry emails, it didn't lead a lot of people to buy a data science book.
Motivation Beats Reach
If you want people to buy your product, talk about your product, and it's best to talk about it in person, especially to a group of people who are curious about it. Makes perfect sense.
This meshes well with what we already know about digital marketing. While I hoped the reach of my blog posts and interviews would outweight the interest of the audience, it turns out reach is no substitute for speaking to a small group of motivated folks.
This is part of what Aaron Goodman at Custora
found in his research
into customer acquisition and lifetime value by advertising channel. Naturally, organic search ranks the highest, because these are people who are actively looking for you. Email does well because you're communicating to a smaller, more engaged group of folks who have already indicated they want your content (ideally using double opt-in). Social media comes in last, because while these channels have plenty of reach, that reach doesn't compensate for the lack of motivation and interest of the folks you're reaching.
As a side note, that's actually why I love
MailChimp's billboard strategy
. Outdoor advertising is likely an ineffective way to sell new customers on an app like MailChimp (this is how I feel about Box's outdoor advertising campaign here in Atlanta).
But that's not what MailChimp chose to do. Rather, they just use the billboards as an opportunity to say hi to their existing customers. And that's fun.

Motivation doesn't come into the picture when you're just telling an inside joke.